Century K3153-1 15/2/100 Amp 6/12 Volt Manual / Automatic Deep Cycle Battery Charger Starter
Century K3153-1 15/2/100 Amp 6/12 Volt Manual / Automatic Deep Cycle Battery Charger Starter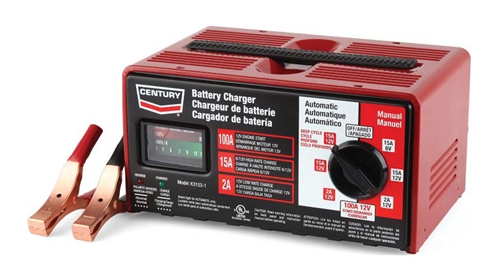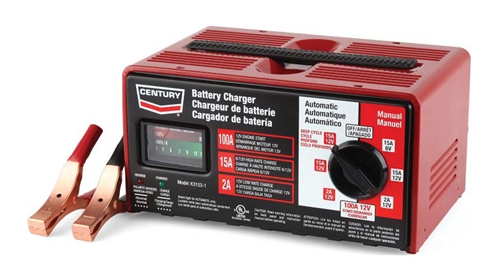 Product Features
100 amp engine start helps start stubborn 12V motors.

15 amp high, 2 amp low 12V Automatic and Manual charge settings.

15 amp high 6V Manual charge setting.

Automatic 12V Deep Cycle setting for full charge.

12V Manual settings allow charging deeply discharged 12V batteries that many automatic chargers cannot.

12V Automatically shuts off when battery is fully charged. Resumes charging if battery becomes discharged.

Charges 6 & 12 volt maintenance free, conventional wet, deep cycle, AGM, and gel batteries used in cars, trucks, farm equipment, RV, boats and commercial applications.

Charges automotive batteries in 2 to 4 hours.

Low 2 amp setting is ideal for charging 12 volt motorcycle and lawn mower batteries.

Rotary Switch simplifies charge/start selection.

LEDs - reverse connection and abnormal battery red light, charging and charge complete green light.

Heavy duty insulated clamps grip securely on all batteries.

Six-foot copper output cables.
Manual / Automatic: Fully Automatic
Voltage Settings: 6/12
6 Volt Charging Amps UL & CSA Rating: 15
12 Volt Charging Amps UL & CSA Rating: 15/2
DC Cable Gauge: 10ga
Engine Starting UL & CSA Output: 100
Warranty: 1 Year Limited
Shipping Weight: 14 lbs